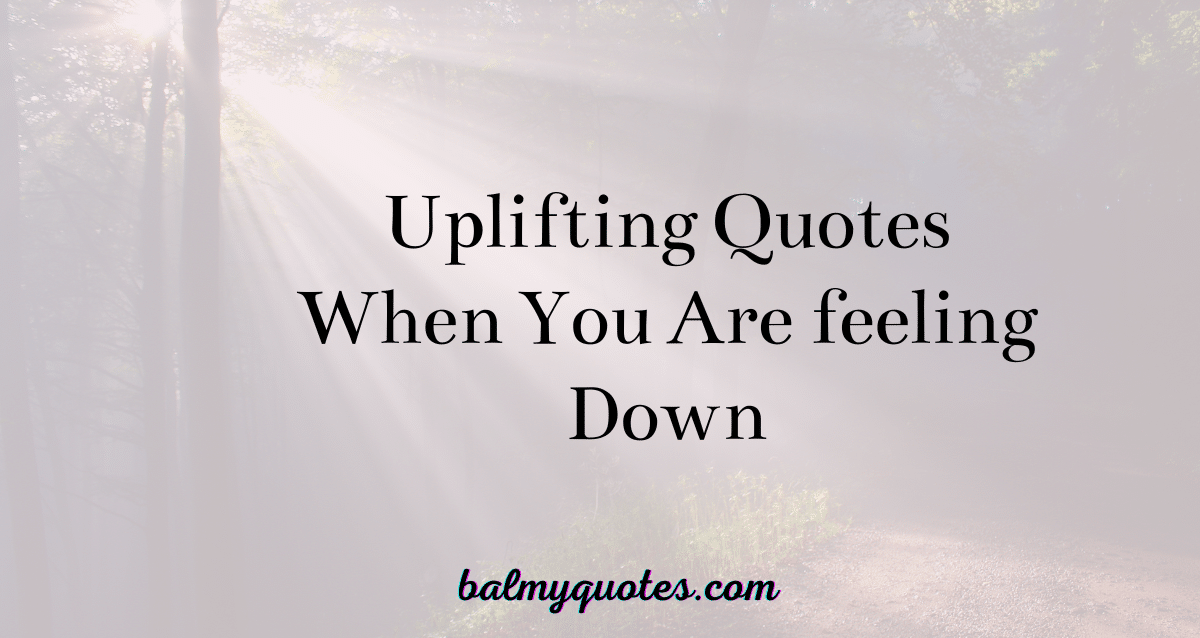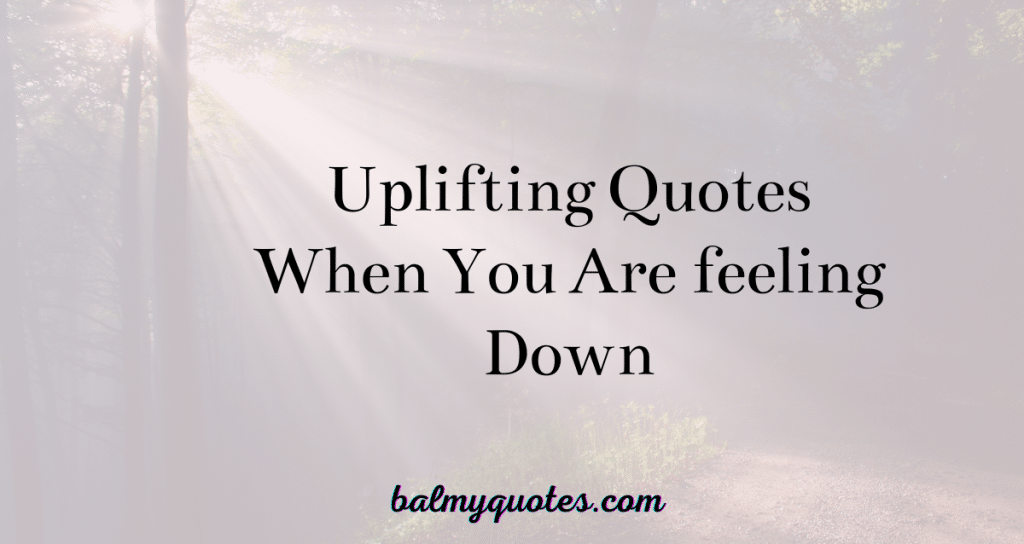 It's common to feel down, overwhelmed, and unmotivated sometimes.
During such times, it's essential to find ways to uplift ourselves and get back on track. Reading inspiring words can help you shift your perspective and find hope and motivation.
Whether you're looking for words of wisdom from a famous author or a simple phrase to repeat to yourself throughout the day, there are plenty of uplifting quotes out there to choose from!
Here are some uplifting quotes to get you through tough times.
Uplifting Quotes to Brighten Your Spirit When You're Feeling Down
Here are some uplifting quotes that can provide some encouragement to lift one's spirits.
Quotes for Self-Love
When we're feeling down, it's easy to be hard on ourselves and focus on our flaws and shortcomings.
However, we must always remember we're all humans with our own strengths and weaknesses.
Learning to love ourselves, flaws, and all is an important part of feeling better. Here are some few quotes to help you appreciate and accept yourself more:
#1. "You yourself, as much as anybody in the entire universe, deserve your love and affection." – Buddha
#2. "Self-care is not selfish. You cannot serve from an empty vessel." – Eleanor Brown
#3. "You are enough just as you are." – Meghan Markle
#4. "You are living. You occupy space. You have a mass. You matter."— Albert Einstein
#5. "Love yourself first and everything else falls into line. You really have to love yourself to get anything done in this world." – Lucille Ball
Quotes for Perseverance
Perseverance is the key to success. Here are some quotes to keep going even when the going gets tough:
#6. "Believe you can, and you're halfway there." – Theodore Roosevelt
#7. "Believe in yourself and all that you are. Know that there is something inside you that is greater than any obstacle." – Christian D. Larson
#8. "Success is not final, failure is not fatal: It is the courage to continue that counts." – Winston Churchill
#9. "I have not failed. I've just found 10,000 ways that won't work." – Thomas Edison
#10. "You are braver than you believe, stronger than you seem, and smarter than you think." – A.A. Milne
#11. "You are never too old to set another goal or to dream a new dream." – C.S. Lewis
#12. "You are not defined by your failures. They're just stepping stones to your success."- Anonymous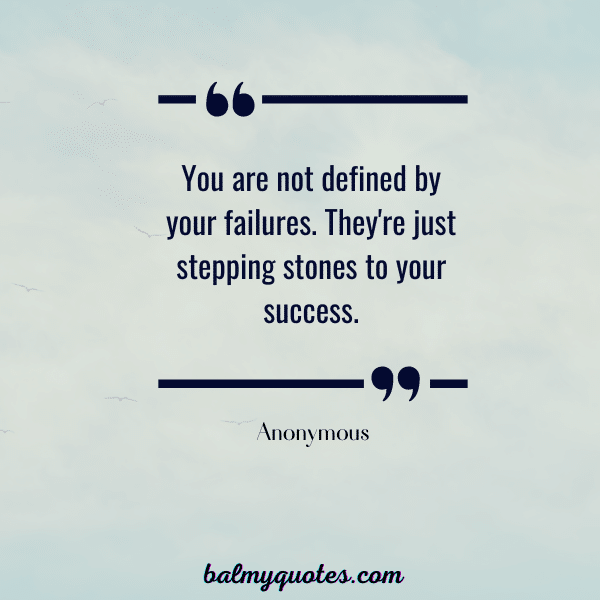 Quotes for Hope
Hope is what keeps people going during difficult times. Here are some quotes to help keep hope alive:
#13. "Hope is being able to see that there is light despite all of the darkness." – Desmond Tutu
#14. "The darkest hour has only sixty minutes." – Morris Mandel
Quotes On Taking One Step At A Time (Quotes To Inspire You)
#15. "Hope is the thing with feathers that perches in the soul and sings the tune without the words and never stops at all." – Emily Dickinson
#16. "When one door of happiness closes, another opens; but often we look so long at the closed door that we do not see the one which has been opened for us." – Helen Keller
#17. "Our greatest glory in life is not in never falling, but in rising every time we fall."- Confucius
Remember, when things get tough, you are not alone. Everyone experiences setbacks and challenges in life. However, it is how we respond to these challenges that defines us.
Keep these quotes in mind and remember to stay positive, keep pushing forward and never give up.
How to Use Uplifting Quotes
When feeling down, uplifting quotes can be a powerful tool to help lift one's spirits and provide inspiration. Here are some ways to use uplifting quotes effectively:
Find quotes that resonate with you: Everyone is different, so what may be uplifting for one person may not be for another. Take the time to find quotes that resonate with you and make you feel better.
Keep them easily accessible: You can keep your favorite quotes in your notebook or on your phone or print them out and place them in places you'll see them often, such as on your refrigerator.
Repeat them often: When you're feeling down, repeat your favorite quotes to yourself several times. This can help you internalize the message and feel more positive.
Use them as affirmations: When you repeat uplifting quotes to yourself, try to believe in the message and use it as a positive affirmation. For example, if your favorite quote is "I am strong and capable," repeat it to yourself and believe it's true.
Share them with others: Uplifting quotes can also be a great way to spread positivity to others. Make sure to share your favorite quotes with your loved ones who may need a boost, or post them to social media if you want to motivate others.
Conclusion
Overall, uplifting quotes can be a simple but effective way to improve one's mood and mindset.
By finding quotes that resonate with you, keeping them easily accessible, repeating them often, using them as affirmations, and sharing them with others, you can harness the power of these positive messages and feel more uplifted and inspired.
Remember these 15 uplifting quotes when you are down and remember to stay positive, keep pushing forward and never give up!
Share these inspiring quotes with your family and friends if you liked them!
Other Related Quotes