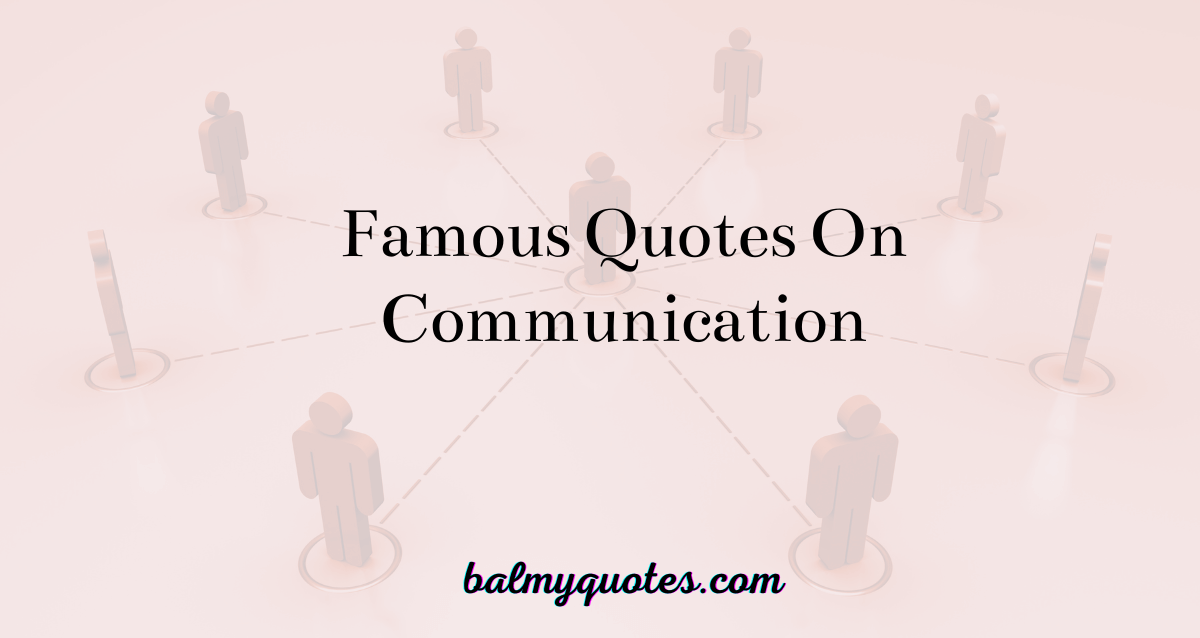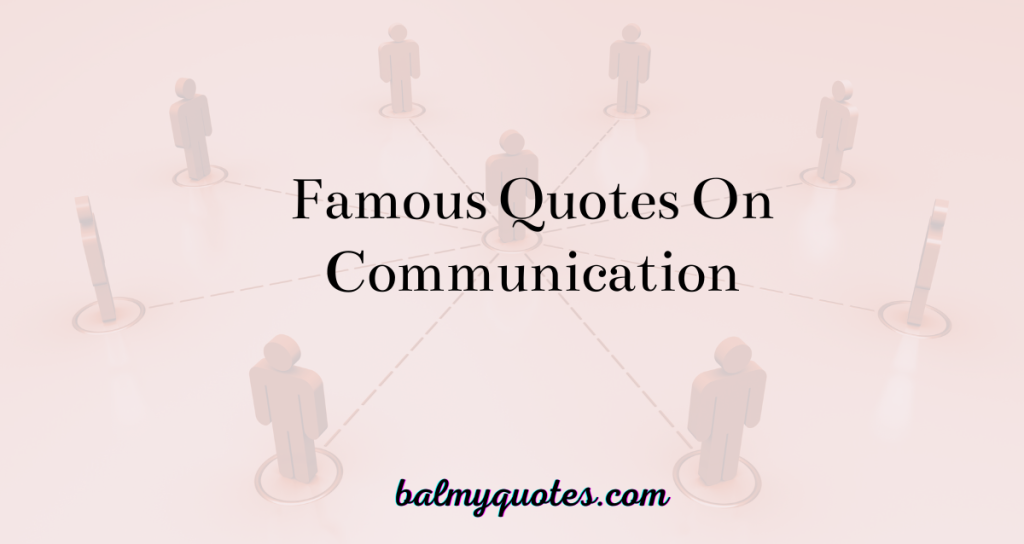 Communication is important in nearly every aspect of our lives, from personal relationships to professional success. Effective communication is critical to building strong relationships, resolving conflicts, and achieving goals.
When people communicate well with each other, they are more likely to develop positive relationships. On the other hand, poor communication can lead to misunderstandings, mistrust, and, eventually, a breakdown in the relationship.
If you're looking for inspiration on communication, famous quotes can provide great insight and wisdom. They offer a unique perspective on the power of words and their impact on our lives. Therefore, I compiled a list of some of the most famous communication quotes.
This collection of famous quotes on communication is a great reminder of the power of words and how powerful they can be in connecting, inspiring, and inspiring others through words.
Here are some of the most famous communication quotes that can motivate us to improve our communication skills personally and professionally.
Famous Quotes On Communication
#1 "Effective communication starts with listening." – Robert Gately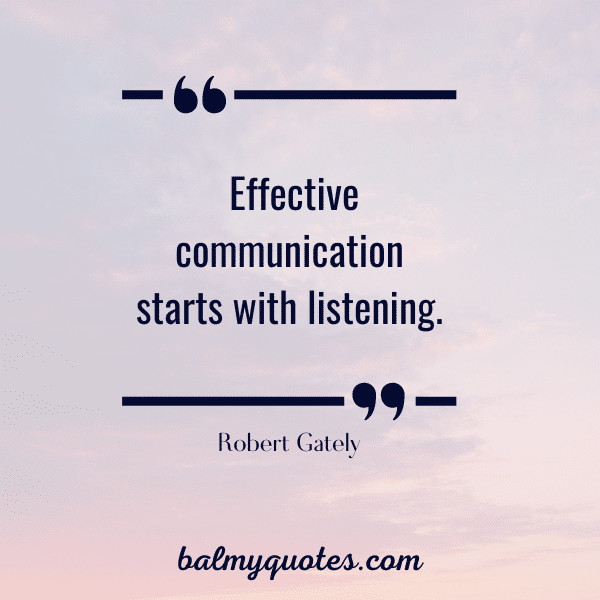 #2 "The quality of your life is the quality of your communication." – Tony Robbins
#3 "Communication works for those who work at it." – John Powell
#4 "Communication – the human connection is the key to personal and career success." -Paul Meyer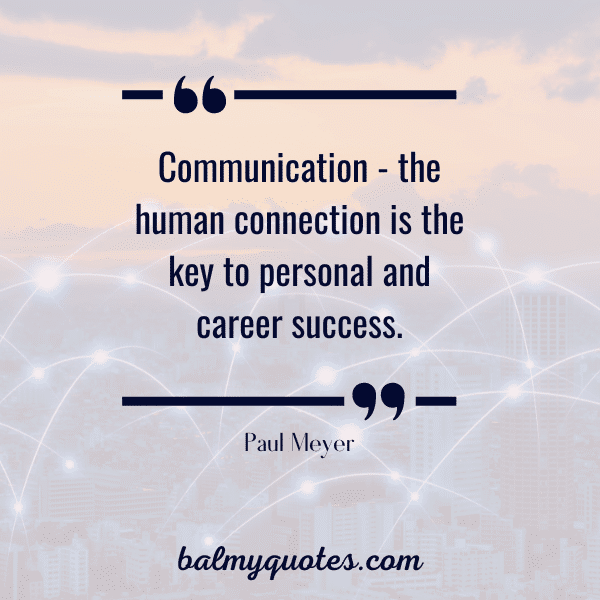 #5 "The most important thing in communication is to hear what isn't being said." – Peter Drucker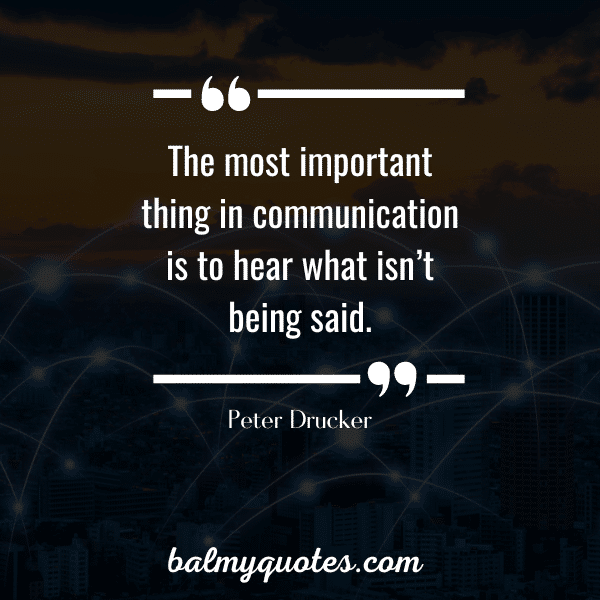 #6 "Communication is one of the most important skills you require for a successful life." – Catherine Pulsifer
#7 "The single biggest problem in communication is the illusion that it has taken place." – George Bernard Shaw
#8 "Communication is the solvent of all problems and is the foundation for personal development." – Peter Shepherd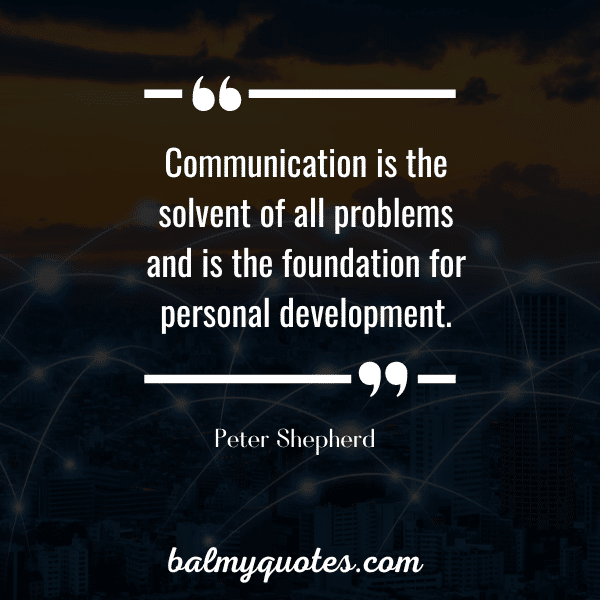 Relationship Communication Quotes
#9 "No relationship can survive without trust, honesty, and communication, no matter how close you are." – J. Sterling
#10 "Communication to a relationship is like oxygen to life. Without it, it dies." – Tony Gaskins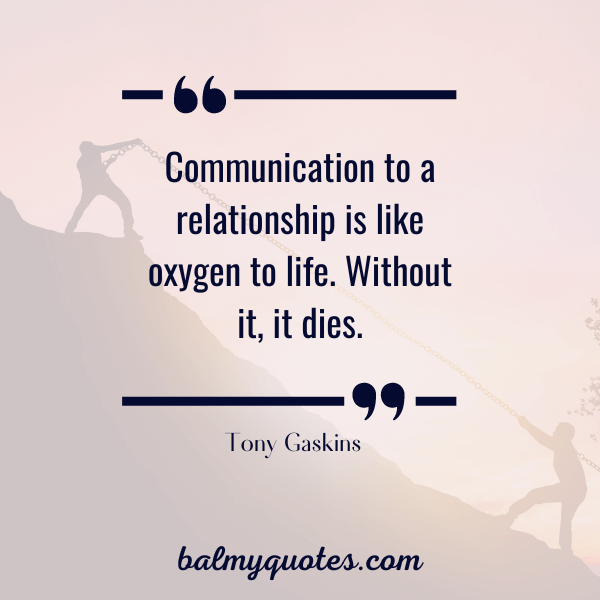 #11 "Communication is the relationships what breath is to life." – Virgina Satir
#12 "Communication is the fuel that keeps the fire of your relationship burning, without it, your relationship goes cold." – William Paisley
#13 "The biggest communication problem is we do not listen to understand. We listen to reply." – Stephen Covey
#14 "Good communication is the bridge between confusion and clarity." – Nat Turner
#15 "Communication is the key to a healthy relationship, attentiveness , and consistency. Without it, there is no relationship." – Natalie Bleau
#16 "Honest communication is built on truth and integrity and upon respect of the one for the other." – Benjamin E. Mays
#17 "It's not what you say, it's how you say it." – Mae West
#18 "Great communication begins with connection." – Oprah Winfrey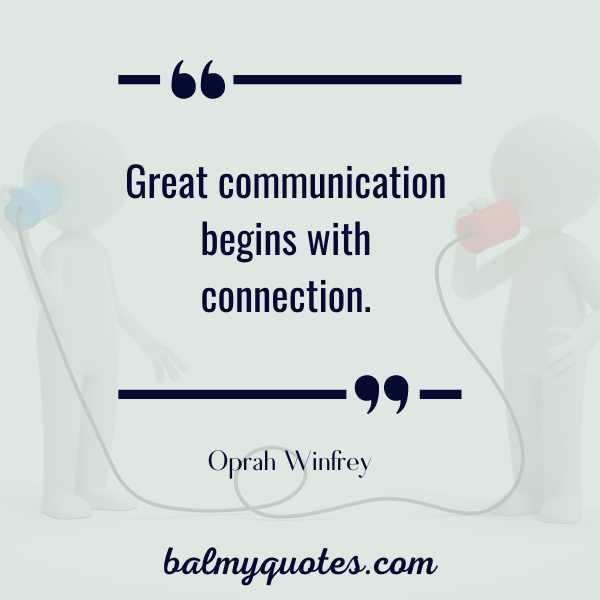 #19 "Communication leads to community, that is, to understanding, intimacy and mutual valuing."- Rollo May
#20 "To effectively communicate, we must realize that we are all different in the way we perceive the world and use this understanding as a guide to our communication with others." – Tony Robbins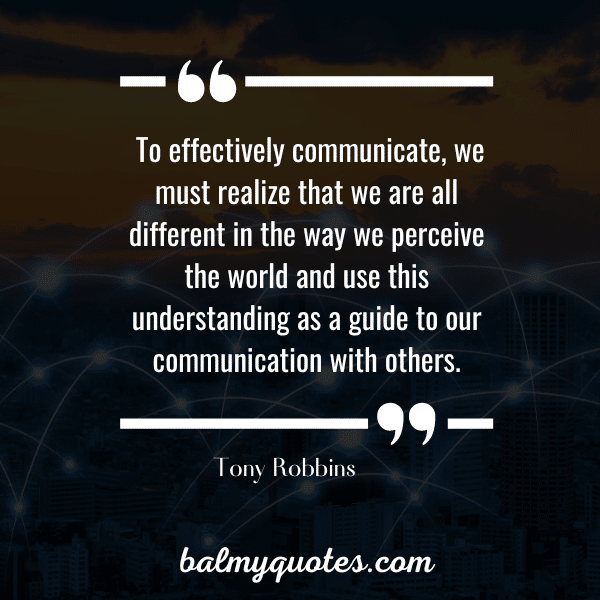 Business Communication Quotes
#21 "The art of communication is the language of leadership." – James Humes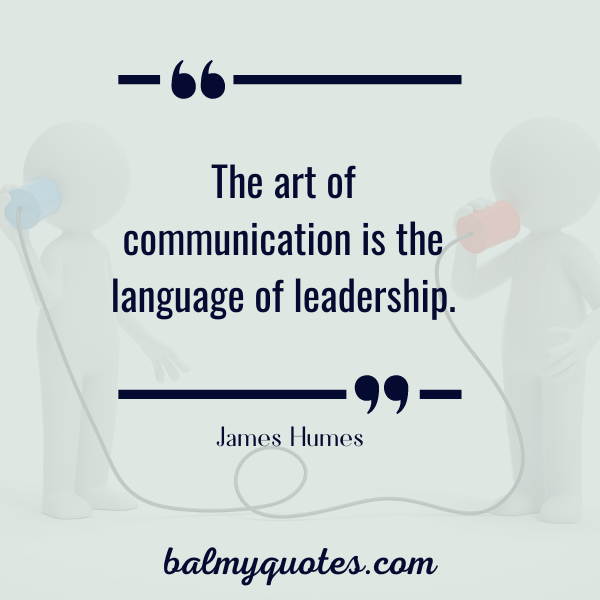 #22 "Communication is the most important skill any leader can possess." – Richard Branson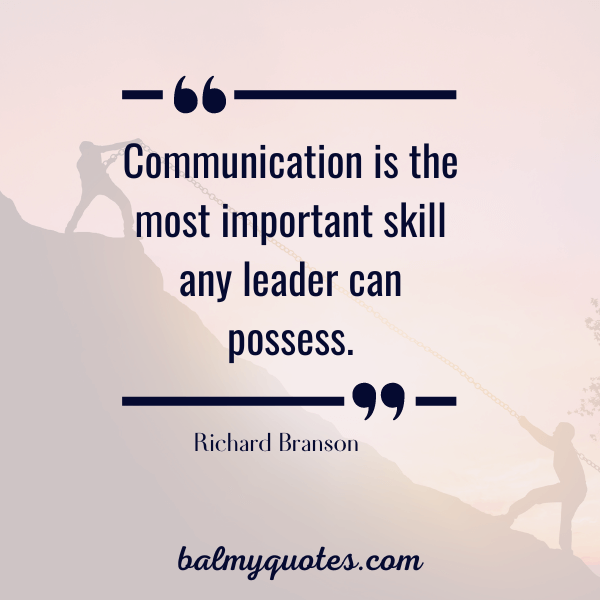 #23 "The way we communicate with others and with ourselves ultimately determines the quality of our lives." – Tony Robbins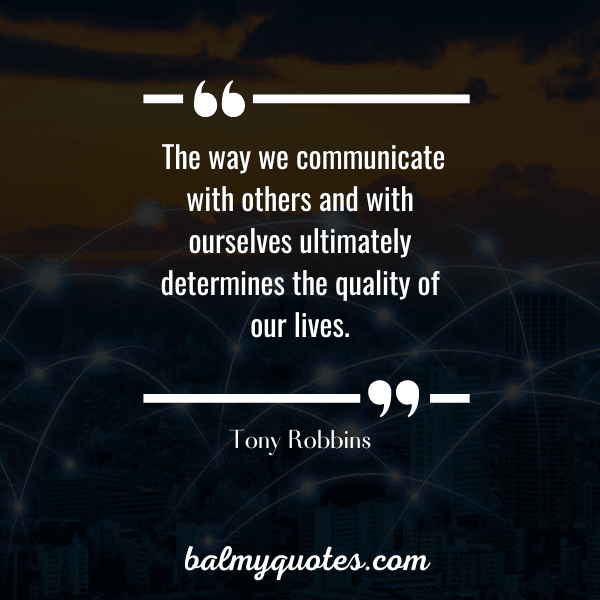 #24 "Good communication is just as stimulating as black coffee, and just as hard to sleep after." – Anne Morrow Lindbergh
#25 "Effective communication is 20% what you know and 80% how you feel about what you know." – Jim Rohn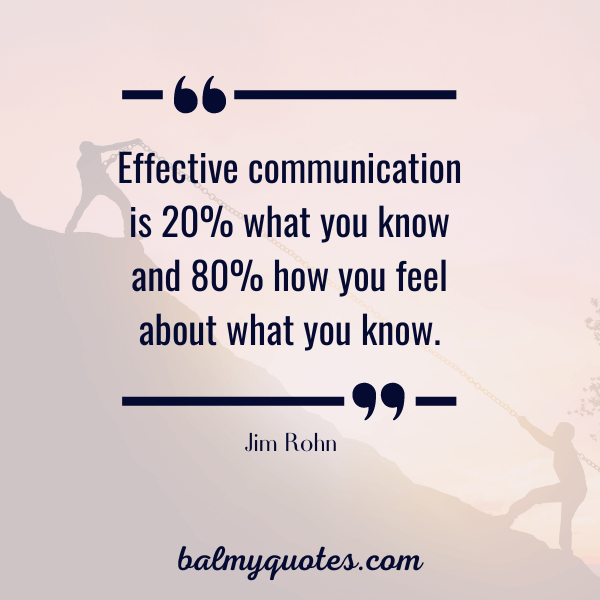 #26 "The quality of your life is determined by the quality of your relationships. The quality of your business is no different." – Harvey Mackay
#27 "Communication is a skill that you can learn. It's like riding a bicycle or typing. If you're willing to work at it, you can rapidly improve the quality of every part of your business." – Brian Tracy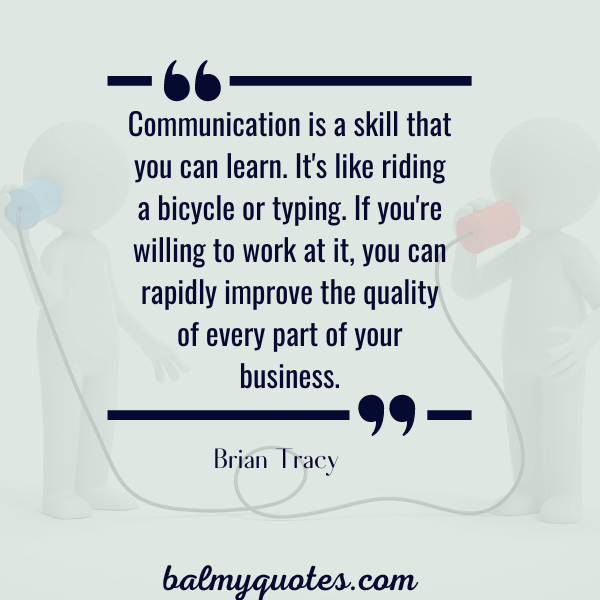 #28 "Make sure to communicate your idea quickly and keep it straight to the point."- Paul Bailey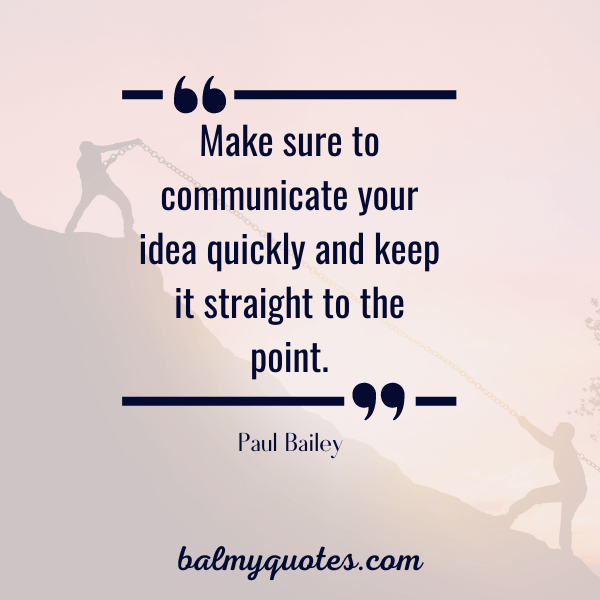 #29 "You can have brilliant ideas, but if you can't get them across, your ideas won't get you anywhere." – Lee Lacocca
I hope you enjoyed reading these quotes on communication. Please feel free to share this with your family and friends if you find it useful.
Related Posts