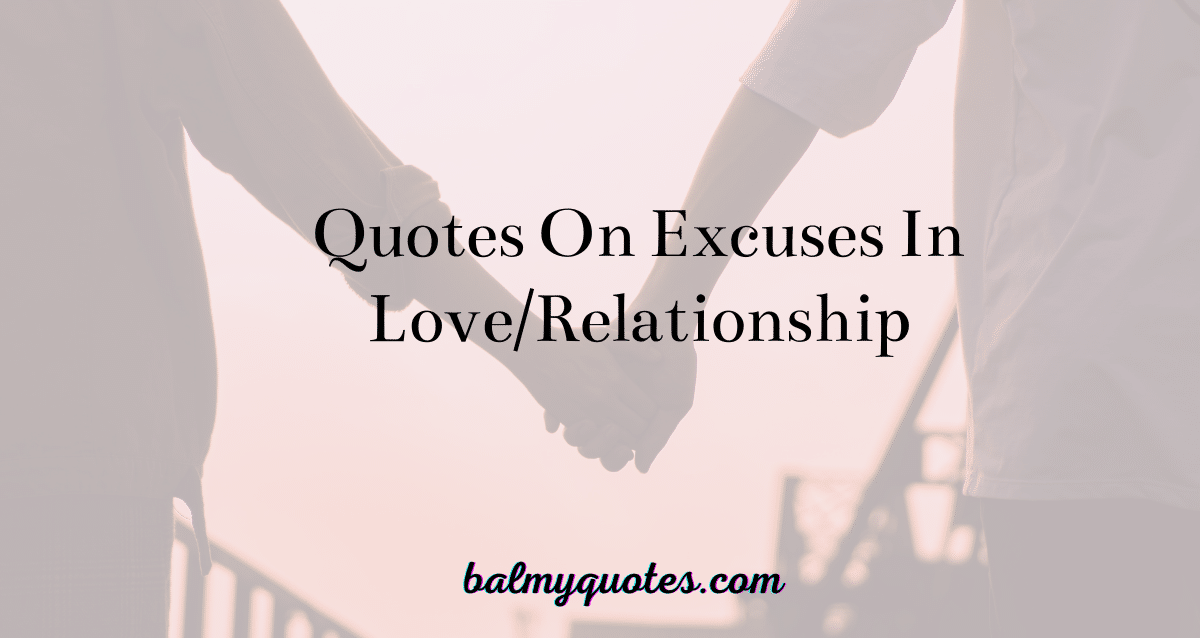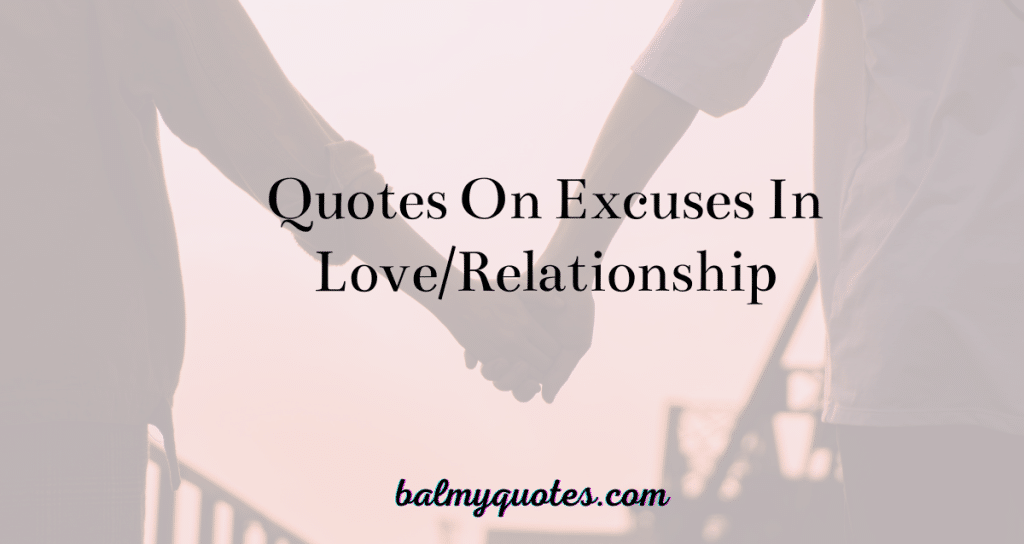 Relationships are not always easy. They require constant effort, communication, and compromise. There might be moments when one or both partners make excuses for their behavior.
It's human nature to try and avoid negative consequences or difficult conversations by deflecting blame or responsibility elsewhere. However, excuses can quickly become a destructive force in a relationship, leading to feelings of resentment, mistrust, and frustration.
Whether it's a missed date, a forgotten promise, or a failure to follow through on a commitment, excuses can significantly impact a relationship's health and longevity.
If you're feeling lost in the world of relationship excuses, you're not alone. In this blog post, I've compiled quotes related to excuses in a relationship. These powerful quotes serve as a reminder of the importance of accountability, honesty, and personal growth in relationships and how you can learn from your mistakes to become better partners and individuals.
Famous Quotes On Excuses In Relationship
#1 "Excuses are the nails used to build a house of failure." – Don Wilder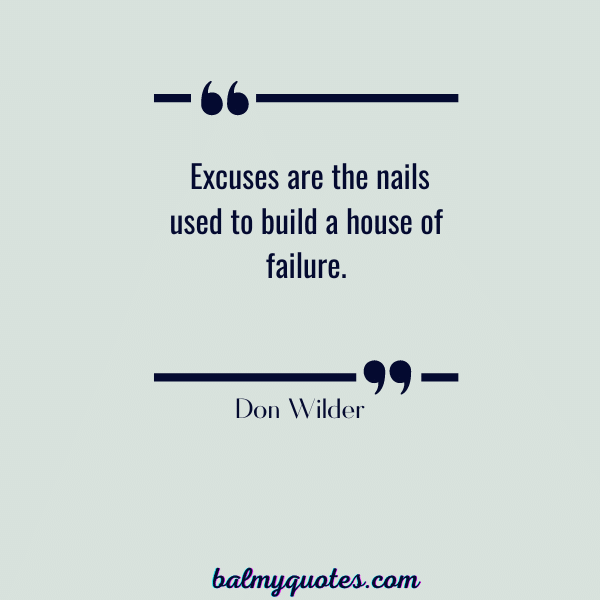 #2 "A man who excuses his faults, implies that he has no intention to correct them." – Edward Abbey
#3 "An excuse is a skin of a reason stuffed with a lie." – Billy Sunday
#4 "Don't make excuses, make improvements." – Tyra Banks
#5 "An excuse is worse and more terrible than a lie, for an excuse is a lie, guarded." – Alexander Pope
#6 "If someone wants to be with you, NOTHING will stop them from doing so. Love doesn't create excuses."– Trenton Shelton
Excuses Relationship/Love Quotes
#7 "Excuses are the easy way out, but they only lead to more problems."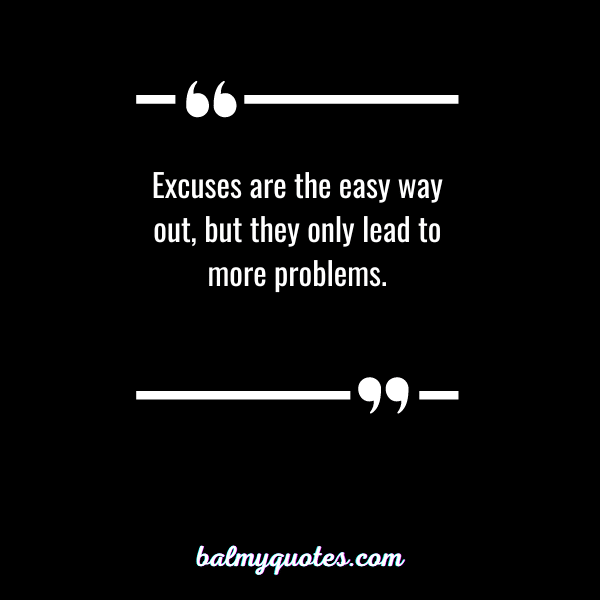 #8 "Excuses may seem like a quick fix, but they only create distance between two people."
#9 "Love means taking responsibility for your actions, not making excuses for them."
#10 "Excuses are the enemy of trust, and without trust, love cannot thrive."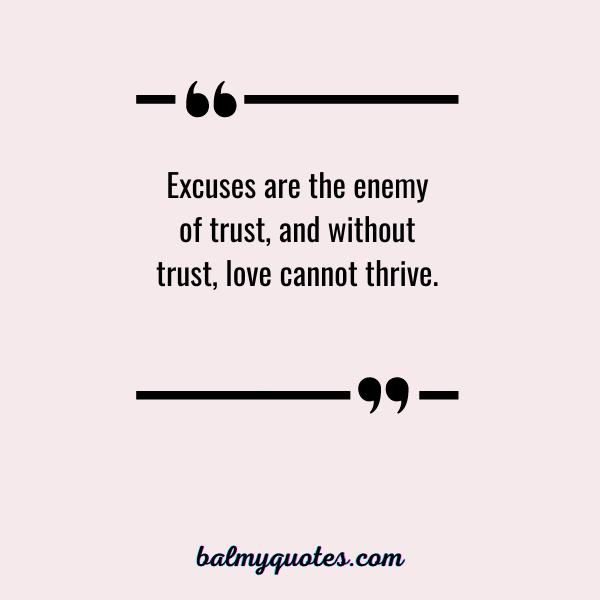 #11 "Making excuses in a relationship is like building a wall between two people."
#12 "True love means being honest and accountable, not making excuses for our mistakes."
#13 "Excuses may offer temporary relief, but they ultimately damage the foundation of a loving relationship."
#14 "Love means being willing to admit our mistakes and work to overcome them, not making excuses to avoid them."
#15 "Excuses only delay the inevitable – the need for honesty and accountability in a loving relationship."
#16 "Love means taking responsibility for our actions and being willing to learn and grow from our mistakes."
#17 "In a healthy relationship, there's no room for excuses—only reasons and understanding."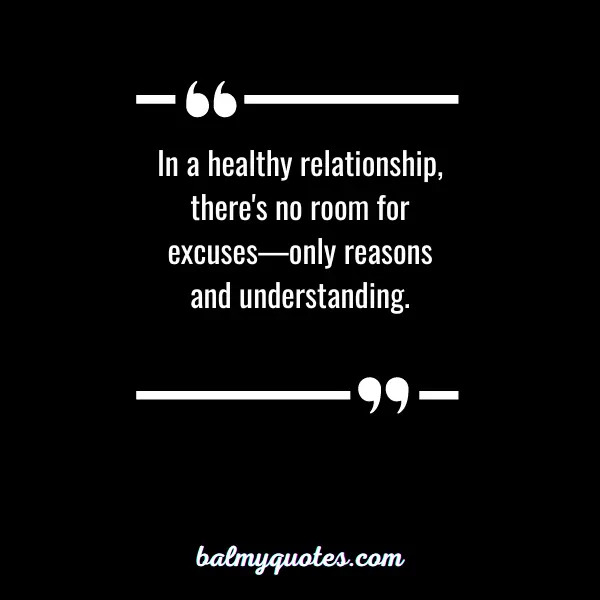 #18 "Love doesn't make excuses; it finds a way to make things work."
In conclusion, it's important to acknowledge and take responsibility for one's actions, rather than making excuses, to maintain a healthy and fulfilling relationship. When one person in a relationship consistently makes excuses, it can create a dynamic of frustration and resentment, leading to a breakdown. Excuses can undermine trust and accountability.
I hope these quotes inspire and motivate you to continually strive for genuine communication and self-improvement in your relationships, ultimately deepening the bond you share with your loved ones.
If you enjoy reading this post, don't forget to share with your family & friends.
Other Related Quotes
If you enjoy reading these quotes on excuses in relationships, you might also enjoy exploring the following quote collections, which offer additional wisdom and insights into various aspects of love, life, and personal growth. Each set of quotes provides a unique perspective and they can serve as inspiration for self-reflection and improvement.