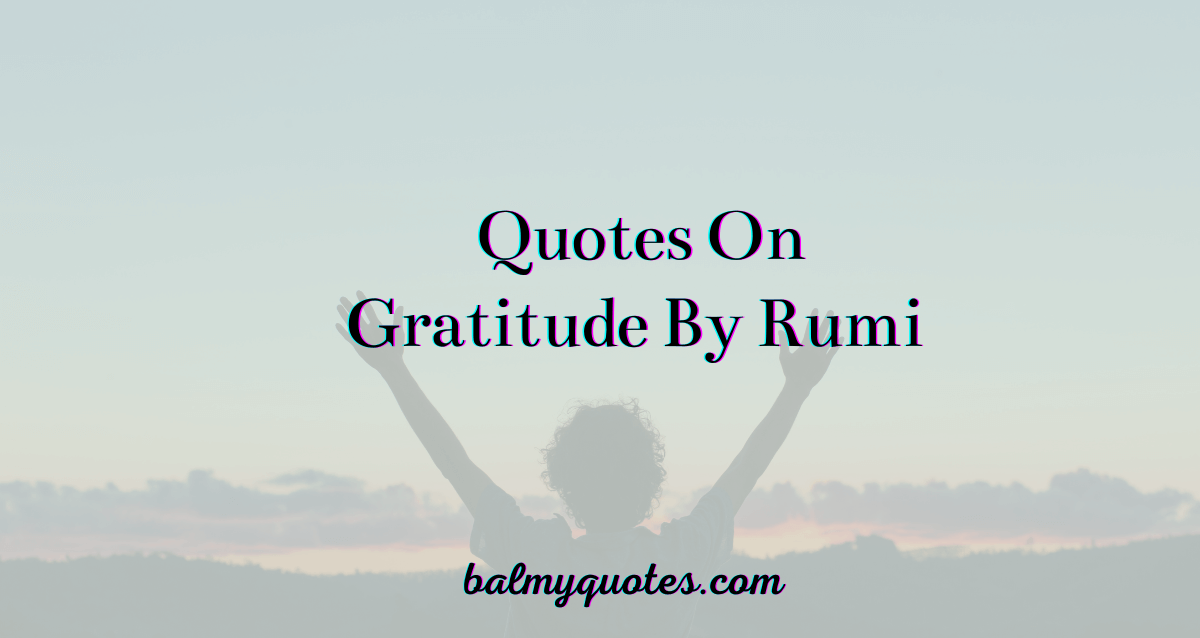 Gratitude is a state of mind. It helps us remember what we're grateful for, which makes it easier to focus on the good things instead of getting overwhelmed by all the bad stuff. If you're looking to get your daily dose of inspiration and gratitude, Rumi is the way to go! Rumi was a 13th-century Persian poet, Sufi mystic, and one of the most well-known poets of all time. He wrote a lot of great poetry about the benefits of gratitude and how it can change our lives. Here are some of the quotes on gratitude by Rumi.
7 Gratitude Quotes By Rumi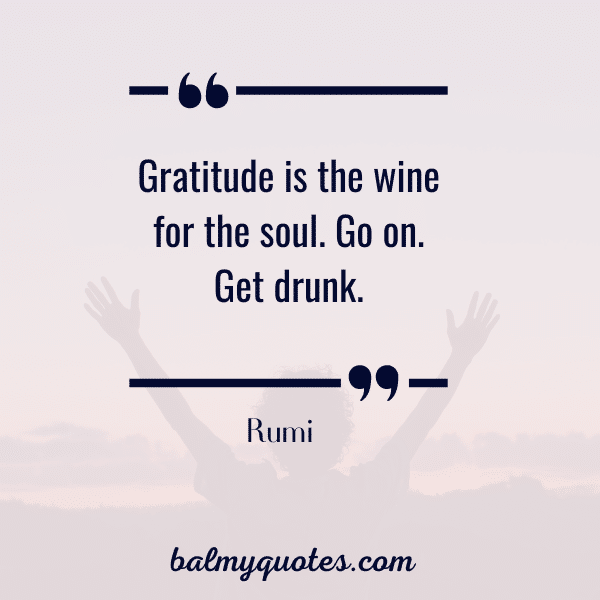 #1 "Gratitude is the wine for the soul. Go on. Get drunk."- Rumi
This quote is about the importance of gratitude. The author Rumi uses the metaphor of wine to describe how you can experience this feeling of gratitude. Gratitude is a way to connect with your inner self and feel connected to the world around you. It's about feeling grateful for what you have rather than focusing on what you don't have. If you feel grateful, you have more energy, happiness, and joy.
#2 "Today, let us swim wildly, joyously in gratitude." – Rumi
This quote from Rumi reminds us to be grateful for the things we take for granted. It's easy to get caught up in our daily grind and forget how amazing life is. But Rumi reminds us that we should be thankful for what we have. We should stop worrying about what we don't have and try to enjoy the things we already have.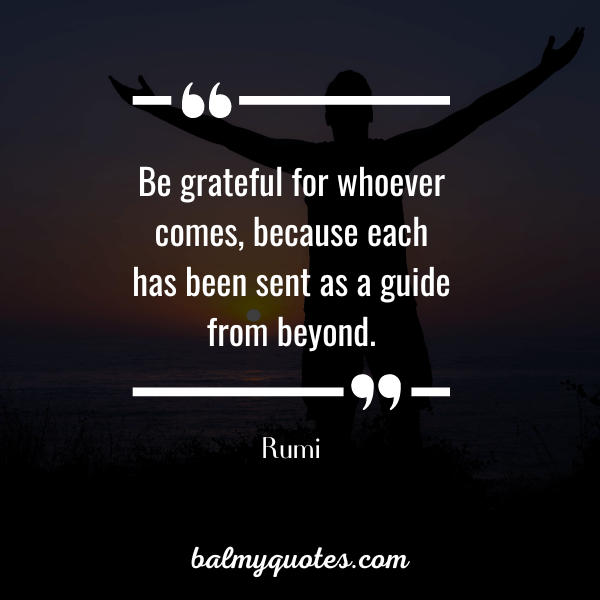 #3 "Be grateful for your life, every detail of it, and your face will come to shine like a sun, and everyone who sees it will be made glad and peaceful."- Rumi
There's a lot of wisdom in this quote. It reminds us that we should be grateful for what we have, even if it isn't everything we want. When you are grateful for everything happening in your life, including the little things, you can see the beauty in everything. You will be able to see the good in the world, and everyone who sees you will feel happy and peaceful because of your positive energy.
#4 "Wear gratitude like a clock and it will feed every corner of your life." – Rumi
Gratitude is an essential part of life, and it can be worn like a clock to remind you to appreciate everything around you. Being grateful for all the good things in your life is essential because it will make you happy. The more gratitude you have, the happier you are, and you can share with others and improve their lives!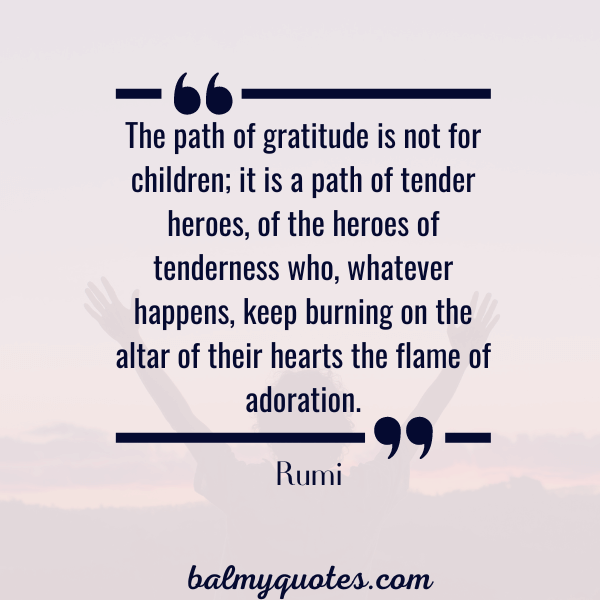 #5 "The path of gratitude is not for children; it is a path of tender heroes, of the heroes of tenderness who, whatever happens, keep burning on the altar of their hearts the flame of adoration." – Rumi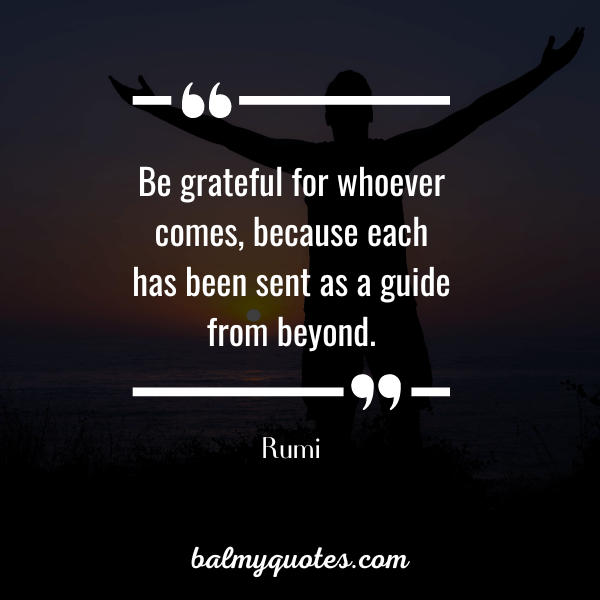 #6 "Be grateful for whoever comes, because each has been sent as a guide from beyond."- Rumi
This quote is about the importance of being grateful for the people who come into our lives and for whatever happens. It is a reminder that everything in our lives has meaning and purpose.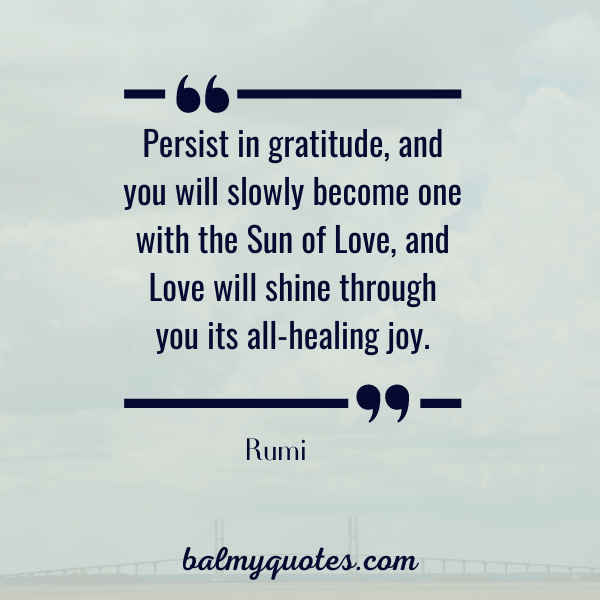 #7 "Persist in gratitude, and you will slowly become one with the Sun of Love, and Love will shine through you its all-healing joy."- Rumi
This quote is about the power of gratitude. You should be grateful for all the good things in your life, and you will receive more of them. This is a way to live that can help you feel happier and more fulfilled.
Gratitude is our best attitude toward life. When everything else falls away, our gratitude for what remains will see us through. That's why we should all endeavor to see that there is something worth being grateful for in every difficult moment. We must be willing to let go of the past and focus on what we still have. Practice gratitude, and you'll go a long way toward improving your quality of life.
I hope you find some inspiration in gratitude quotes by Rumi. Don't forget to share with your friends and family!
Related Post