The importance of women education has been discussed for years, but it is still an issue in many countries. Though much progress has been made toward women's empowerment over the last century, there is still a lot left to do before we can honestly say that all women are equal within our society.
Women are the backbone of our community, and the more involved they are in it, the better it will be. I've compiled some of best quotes on women education to inspire you to get involved in your community and make a difference!


Women Education Quotes
#1 "Equality of opportunity is essential for human progress." – Gandhi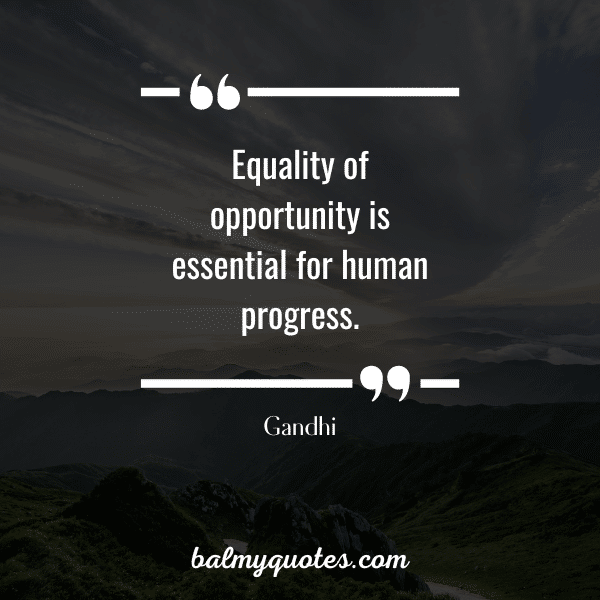 Gandhi's quote, "Equality of opportunity is essential for human progress," means that equality of opportunity allows all people to have an equal chance to succeed. It's all about ensuring everyone has access to the resources they need to succeed.
#2 "You educate a man; you educate a man. You educate a woman; you educate a generation."- Brigham Young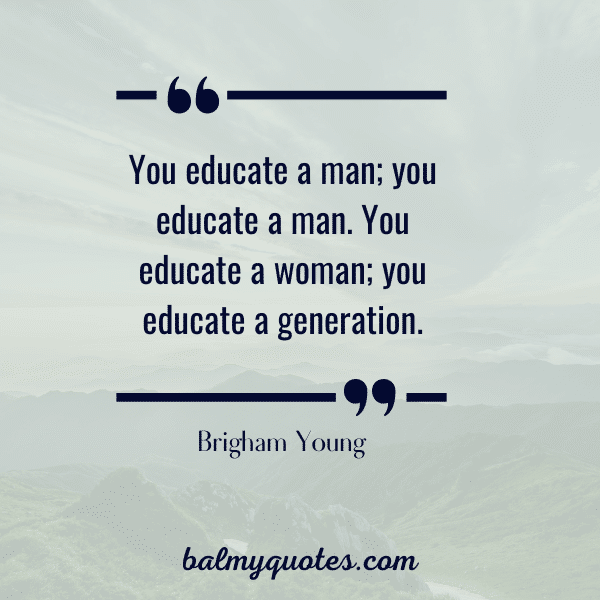 This quote highlights the importance of female education and how it can benefit society. Educating women significantly impacts future generations and leads to stronger communities.
#3 "We must educate our daughters [and] educate our sons." -Jacqueline Kennedy Onassis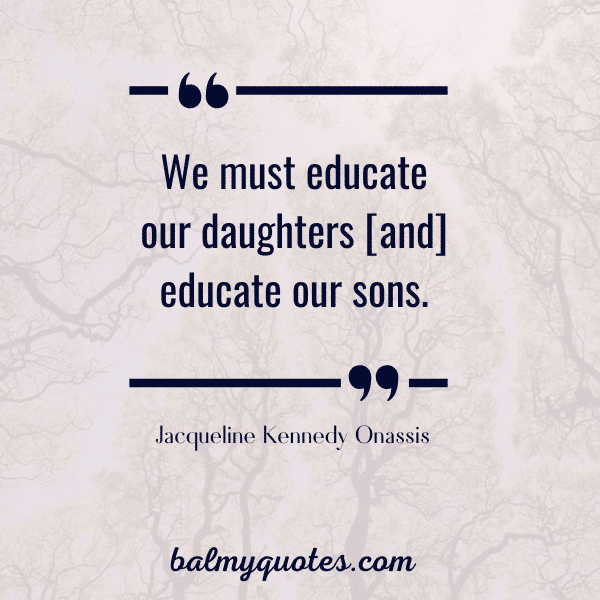 Jacqueline Kennedy Onassis quotes the importance of equal opportunity and education for all. We must ensure both boys and girls get the same opportunities in education.
#4 "Education is the most powerful weapon which you can use to change the world."- Nelson Mandela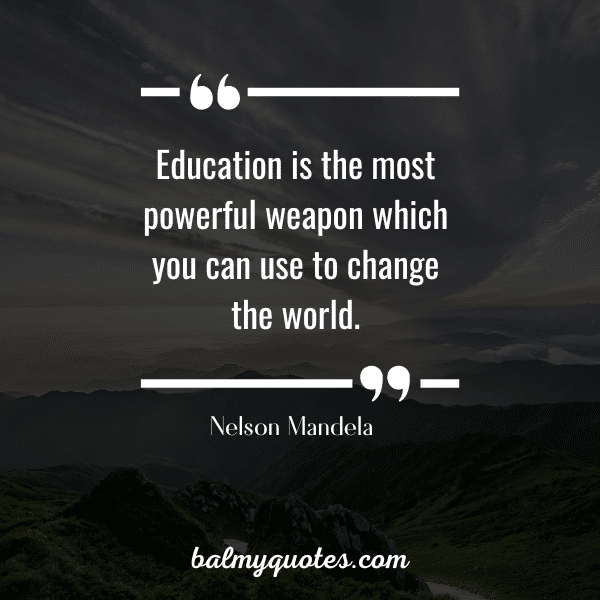 #5 "We educate women because it is smart. We educate women because it changes the world."- Drew Faust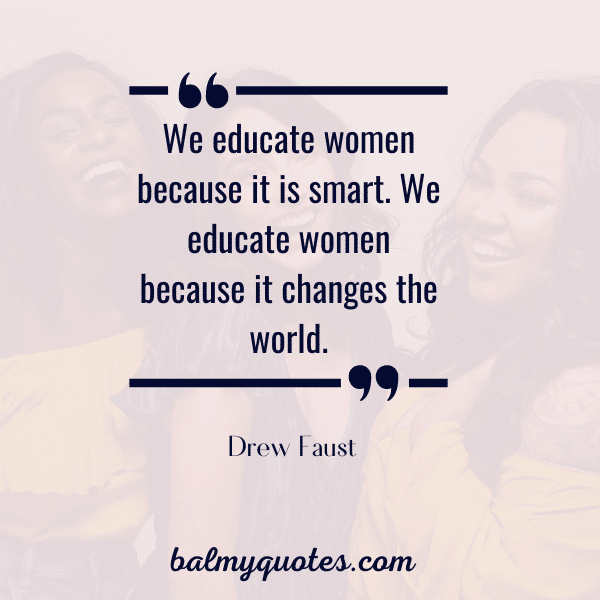 It is important that, as a society, we provide equal opportunities for women to learn and grow to positively impact the world. Educating women empowers individuals, helps communities thrive, and creates opportunities for the future.
#6 "There is no greater pillar of stability than a strong, free, and educated woman."- Angelia Jolie
The quote is about how education gives women more opportunities to do better in life and empowers them to be their communities' leaders. Angelia Jolie believes that the more educated a woman is, the stronger and more stable she will be.


Girl Education Quotes
#7 "To educate girls is to reduce poverty."- Kofi Annan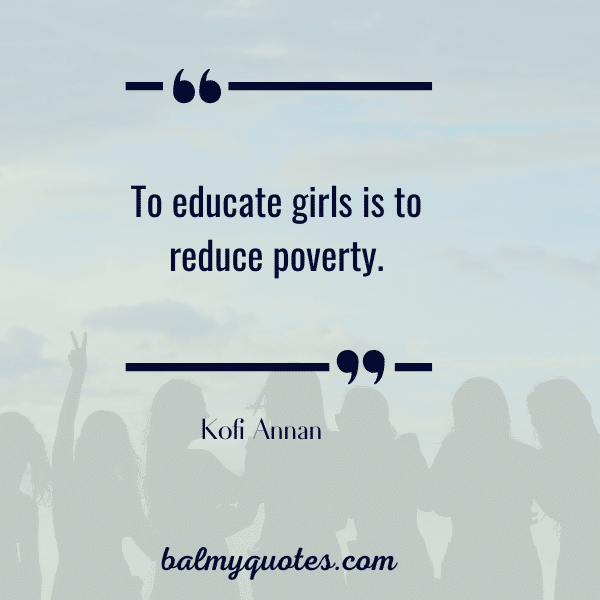 Education is key to reducing poverty and promoting equality. Educating girls promotes their independence by giving them knowledge and skills. As a result, women have a much better opportunity to earn and work, which benefits the economy as a whole.
#8 "Girls' education is the single investment that any society can make."- Carol Bellamy
As Carol Bellamy said, investing in girls' education and empowerment is significant. Educating girls can profoundly impact their lives, their communities, and even the lives of future generations.
#9 "Young women who want an education will not be stopped."- Frieda Pinto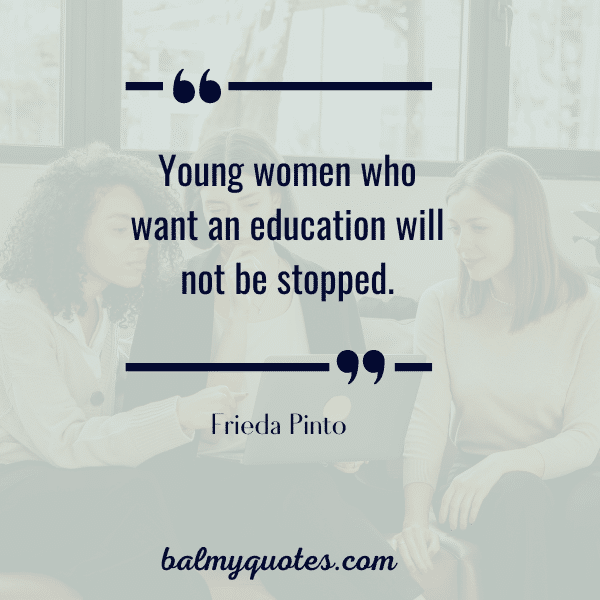 This quote from Frieda Pinto is inspiring to young women all over the world. It is about the determination of women trying to get an education. They will not be stopped from getting an education.
#10 "When we empower girls hungry for education, we cultivate women who are emboldened to effect change within their communities and globally."- Meghan Markle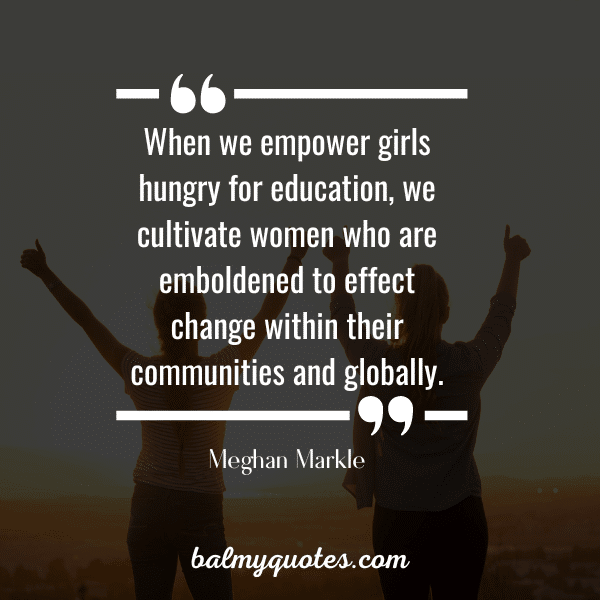 This quote by Meghan Markle is a testament to the power of education. When we empower girls hungry for education, we empower them to pursue their dreams and effect change in their communities.
Inspirational Female Education Quotes
#11 "The education of women is the best way to save the environment."- E.O.Wilson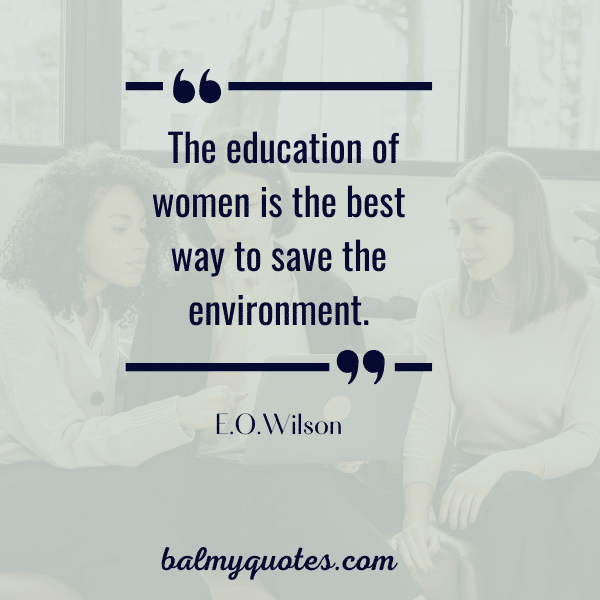 #12 "When women are educated, their countries become stronger and more prosperous."-Michelle Obama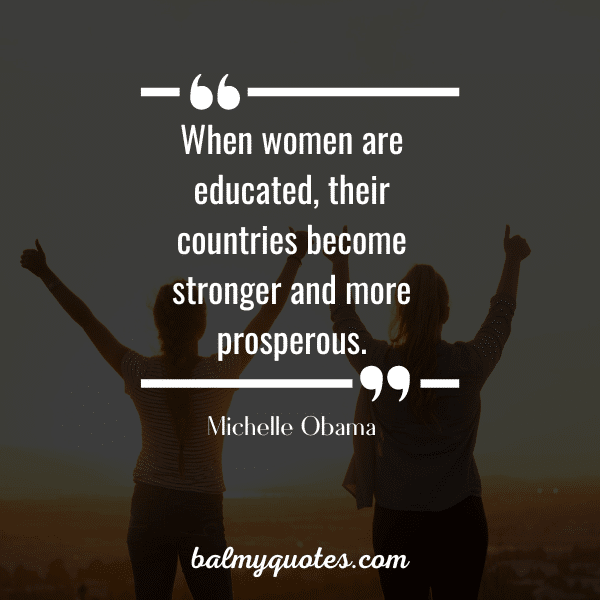 In this quote, Michelle Obama says that a fundamental way to help a country is to educate women. This quote is powerful because it shows how educating women leads to stronger countries and more prosperity for everyone.
#13 "Educate your women first and leave them to themselves; then they will tell you what reforms are necessary for them."- Swami Vivekananda
The quote intends to remind to educate their women so they can make better decisions for themselves and their society as a whole.
#14 "The seeds of success in every nation on Earth are best planted in women and children."- Joyce Band
Women and children are the future of any nation. They are the ones with whom we can build a better future and ensure the country's progress.
#15 "The education and empowerment of women throughout the world cannot fail to result in a more caring, tolerant, just, and peaceful life for all."- Aung San Suu Kyi
In other words, the quote refers to the need for women to be educated and empowered to gain more compassion, kindness, tolerance, and peace in this world.
In conclusion, women's education plays a significant role in their development, so we must encourage it wherever possible. I hope you find some inspiration reading the above quotes on women's education. Feel free to share with your family & friends.