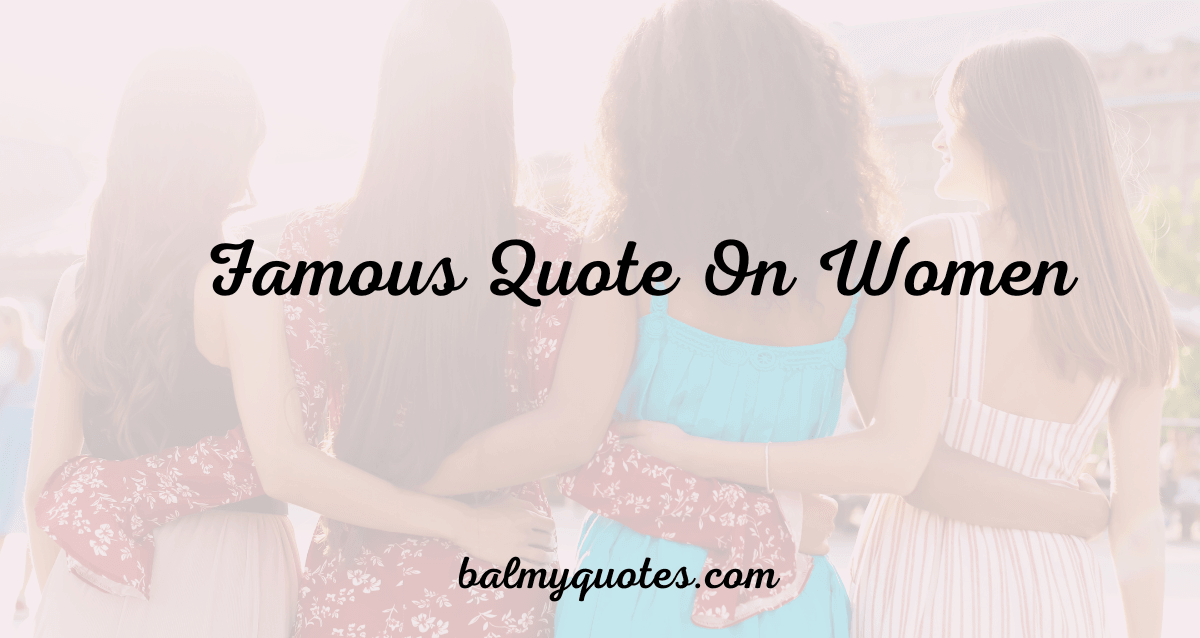 Women are the backbone of society. They are the cornerstone of a family & the foundation of a nation. We need them more than ever now, and it's time to show them how much we appreciate them. Here are 32 famous quotes on women. Make sure you share this with your mom, sister, and all the women who mean the most to you!
Famous Women Quotes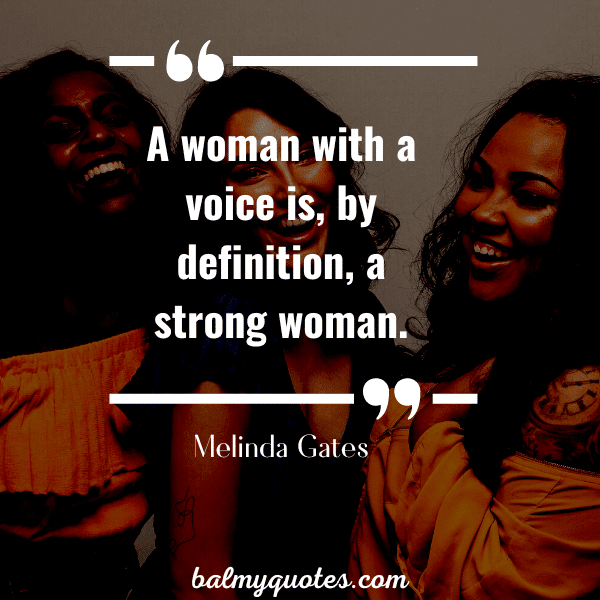 "A woman with a voice is, by definition, a strong woman."- Melinda Gates
"A girl should be two things; who and what she wants." – Coco Chanel
"Woman don't need a voice she has a voice, and they need to feel empowered to use it, and people need to be encouraged to listen". -Meghan Markle
"I've always wanted to be a woman who isn't afraid to tell her a story." – Andra day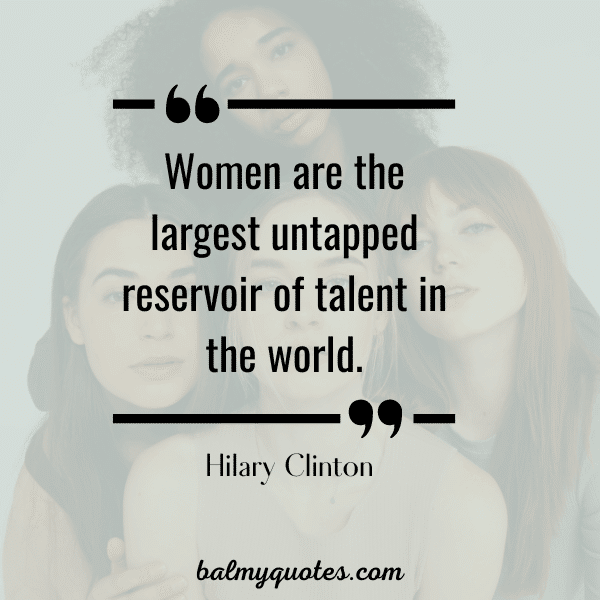 "Women are the largest untapped reservoir of talent in the world."- Hilary Clinton.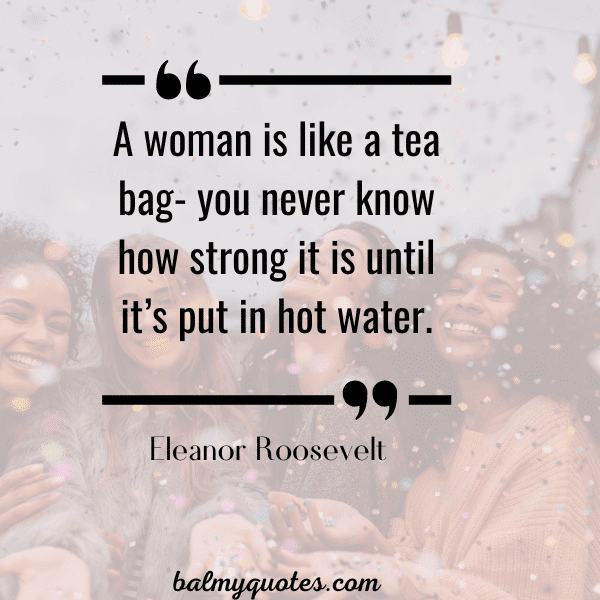 "A woman is like a tea bag- you never know how strong it is until it's put in hot water." – Eleanor Roosevelt
"As usual, there is a great woman behind every idiot." – John Lenon
"Girls are capable of doing everything men are capable of doing. Sometimes they have more imagination than men." – Katherine Johnson
"The best protection any woman can have is courage." – Elizabeth Cady Stanton
"There is no limit to what we, as woman can accomplish." – Michelle Obama
"If you want something said, ask a man; if you want something done, ask a woman." – Margaret Thatcher
"Each time a woman stands up for herself without knowing it possibly, without claiming it, she stands up for all women." – Maya Angelou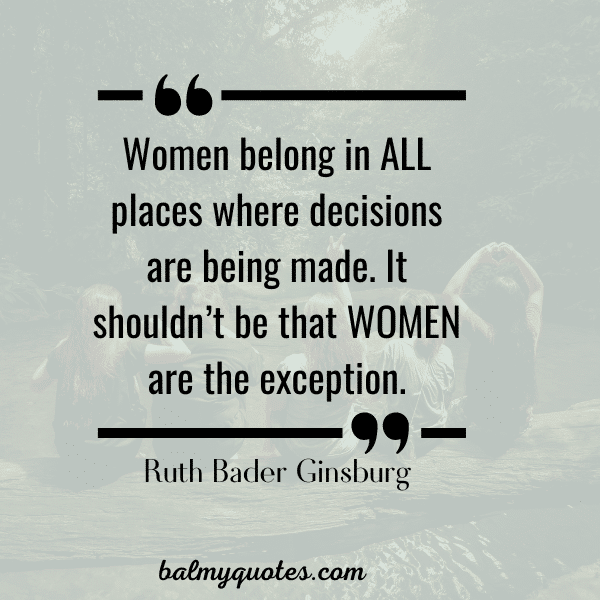 "Women belong in ALL places where decisions are being made. It shouldn't be that WOMEN are the exception." – Ruth Bader Ginsburg
"I just want women to always feel in control. Because we're capable, we're so capable." – Nicki Minaj
"Woman is the companion of man, gifted with equal mental capacity." – Mahatma Gandhi
"Women who seek to be equal with men lack ambition." – Marilyn Monroe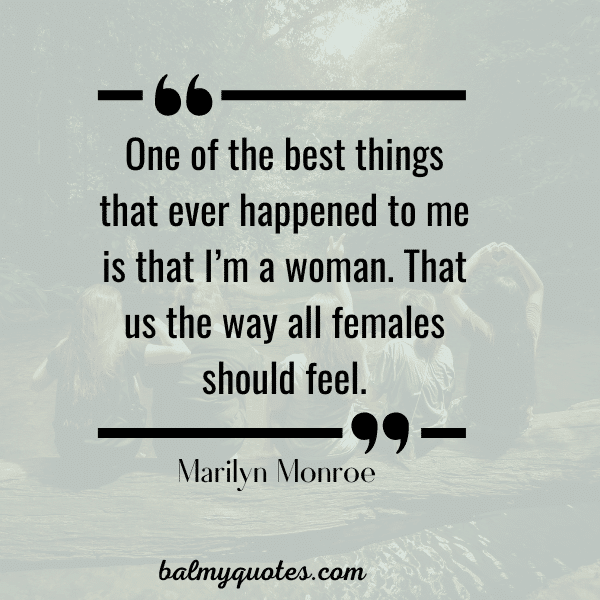 "One of the best things that ever happened to me is that I'm a woman. That us the way all females should feel." – Marilyn Monroe
"You educate a man; you educate a man. You educate a woman; you educate a generation." – Brigham Young
"The most alluring thing a woman can have is confidence." – Beyonce
"The trouble with life is that there are so many beautiful women and so little time." – John Barrymore
"Don't let anyone tell you you're weak because you're a woman." – Mary Kom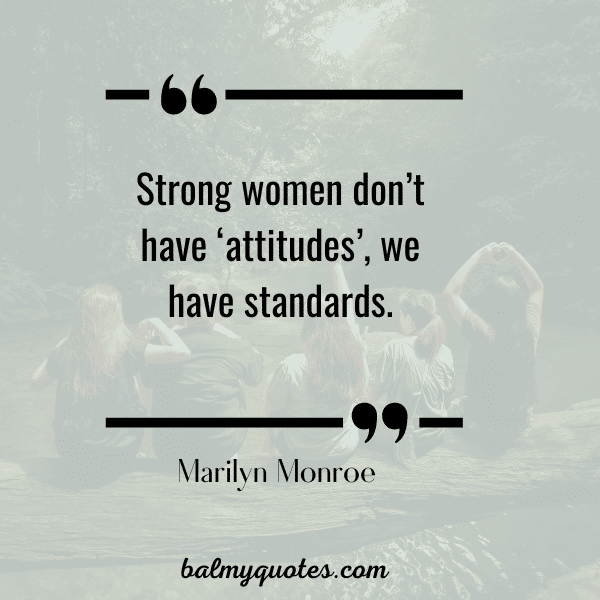 "Strong women don't have 'attitudes', we have standards." -Marilyn Monroe
"When a woman is talking to you, listen to what she says with her eyes." – Victor Hugo
"Feminism isn't about making women stronger. Women are already strong, it's about changing the way the world perceives that strength." – G.D. Anderson
"Nothing makes a woman more beautiful than the belief that she is beautiful." – Sophia Loren
"I always believed that one woman's success can only help another woman's success." – Gloria Vanderbilt
"A witty woman is a treasure; a witty beauty is a power." – George Meredith
"Women are made to be loved, not understood." -Oscar Wilde
"Women are like ovens. We need 5 to 15 mins to heat up." – Sandra Bullock
"Women are wiser than men because they know less and understand more." – James Thurber
"If women didn't exist, all the money in the world would have no meaning."- Aristotle Onassis
"The beauty of a woman must be seen from in her eyes, because that is the doorway to her heart, the place where love resides." — Audrey Hepburn
RELATED QUOTES